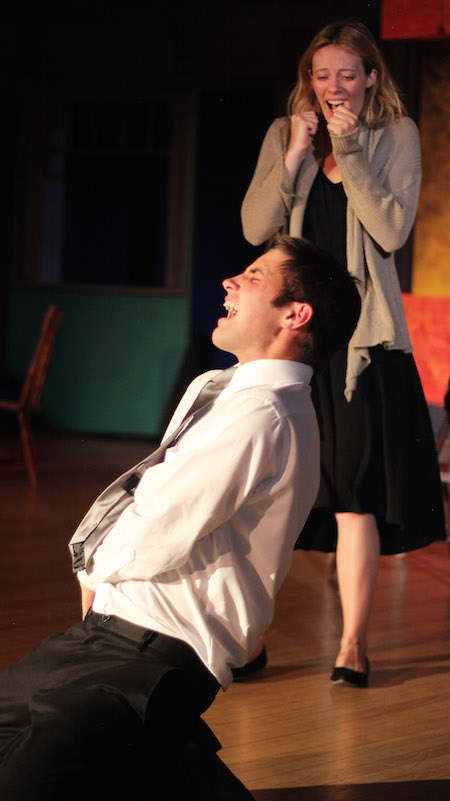 DEAD MAN'S CELL PHONE
by Sarah Ruhl
"Excuse me – are you going to get that? Would you mind answering your phone? I'm sorry to bother you. If you could just – turn your phone – off?"
A found space production presented at the VFW Post, September – October 2015
A sampling of comments from our audiences:
" The performance last night was fantastic! We talked about it a lot afterwards. The humor, darkness, various messages/lessons, content, actors, characters, and thought provoking ideas made this one of the best yet.. We loved it! "
"Dead Man's Cell Phone took me on an incredible journey with an incredible cast and crew. You definitely don't want to miss this!!!!!"
"Do you want to go on a wild theatrical ride…Do yourself a favor and see this stunning gem of a show called "Dead Man's Cell Phone", by Merely Players. Its found space performance at VFW/Durango is hypnotically crazy, beautiful, loving, and sinister. I cannot imagine having a wilder dream in my sleep tonight, than what I just witnessed on stage. See this show!"
Madeleine Meigs as Jean, Conor Sheehan as Gordon/Dwight, Mrs. Gottlieb as Janet Curry, JJ Simms as Other Woman/Stranger, Gyana Gomar as Hermia,
Photography by Kara Wright
Read the preview article at the Durango Herald archive.
Merely Players
49 Wedgewood Circle
Durango, CO  81301
email: directors@merelyplayers.org